You've been looking at ceramic art online for the last few hours – it's time to get out in the world and see the real deal! But what are the best ceramic museums to check out?
If you're like me, you like to see a range of works. From primitive first tries all the way to the funky, unique styles of a modern artist. So this batch of museums covers a wide variety of artist expressions and geographies.
1. American Museum of Ceramic Art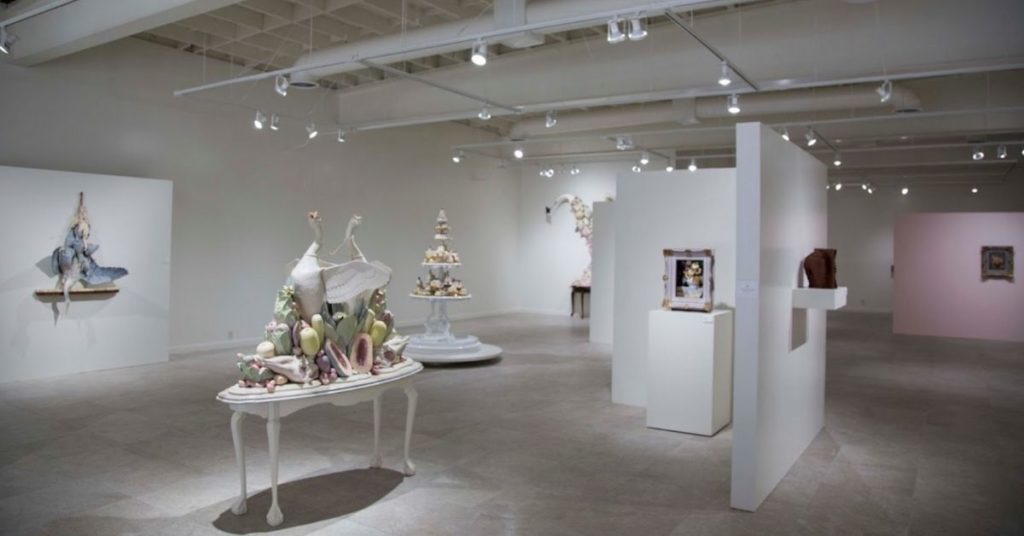 amoca.org – Pomona, California, United States
Why should potters visit?
First off, there are some OUTSTANDING modern pieces at the American Museum of Ceramic Art. That's a bit different when compared to many of the other museums listed on this post which cater to ancient works. Plus, they are hosting a handful of virtual exhibits due to COVID with beautiful photography and videography of the prized works. So you can dig into the displayed art right now.
What's the main exhibit right now?
Mind and Matter: Five bay area sculptures
Here's what the museum says about the exhibit:
MIND+MATTER: Five Bay Area Sculptors assembles over 80 works by Robert Brady, Arthur Gonzalez, Beverly Mayeri, Nancy Selvin, and Richard Shaw. Each investigates clay's materiality while evoking profound expressions of life experiences, contemporary issues, psychological explorations, and reflections of popular culture. The wildly divergent approaches to artmaking of these five artists continue to be a touchstone for new generations of artists working in ceramics.

https://www.amoca.org/current-exhibits/mind-matter/
What people are saying
⭐️⭐️⭐️⭐️⭐️ "I was invited to see the Anna Silver exhibit at the American Museum of Ceramic Art. This museum WOWed me! Plus, there was a whole lot of instruction happening. The collection of art was very impressive." – Louise, Trip Advisor
2. The Museum of Oriental Ceramics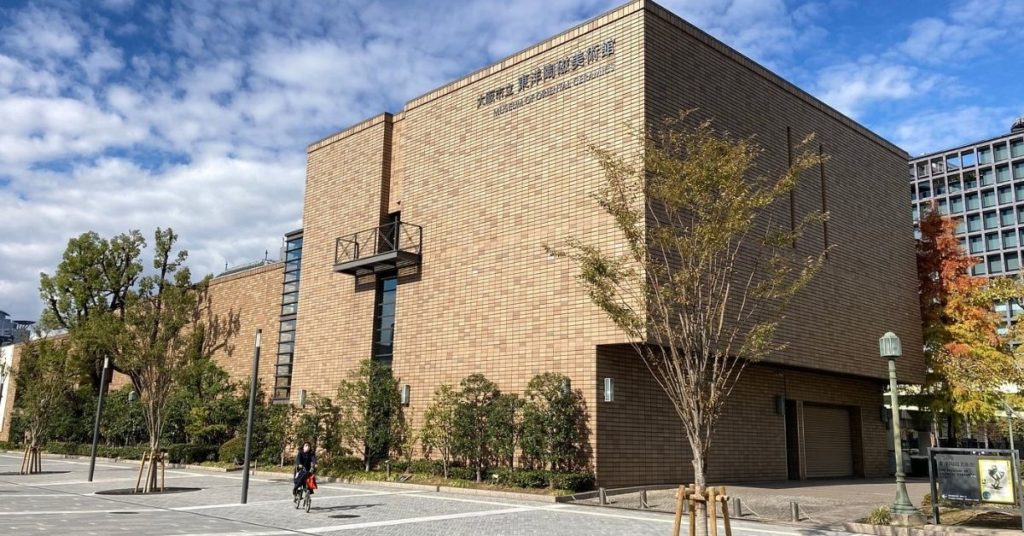 moco.or.jp – Osaka, Japan
Why should potters visit?
Boy, Japanese pottery is so gorgeous. And that beauty is on display at The Museum of Oriental Ceramics in Osaka.
Japanese culture has a deep, spiritual connection to ceramic art. One of the best examples of that is Kintsugi, or the art of fixing broken pottery. This museum takes the Japanese approach to pottery and applies it to a building resulting in a zen-like experience.
What's the main exhibit right now?
Colors, Vigor And Creativity: Vessels By Yanagihara Mutsuo
Here's what the museum says about the exhibit:
Yanagihara Mutsuo (1934–), from Kochi City, Japan, studied ceramic art at Kyoto City University of Arts under professor and potter Tomimoto Kenkichi (1886–1963). Later, having been invited to teach at University of Washington and Alfred University, he made visits to the United States several times between the 1960s and 70s, spending approximately five years there in total. He witnessed firsthand the movement of American art, characterized by abstract expressionism and pop art, which became his source of artistic inspiration. After returning to Japan, he created distinct sculptural works with striking gold and silver decorations, which drew public attention. While constantly seeking contemporary expressions, the artist embraces the continuity of the rich Japanese pottery culture, being determined that he would "never dismiss the art of pottery." Yanagihara describes the joy of pottery as: "While you can become a soloist to render a personal expression, you can also instantly become part of an ensemble."

https://www.moco.or.jp/en/exhibition/current/?e=588
What people are saying
⭐️⭐️⭐️⭐️⭐️ "Really enjoyed an afternoon visit to this museum. Not only do they have a wonderful array of new and ancient ceramics, they are presented in such a beautiful way. I was also able to take pictures of most of the items on display. There is an easy route to follow through the museum, without feeling like I was being "herded". On the same river island there is a terrific rose garden." – Glenn, Trip Advisor
3. Gladstone Pottery Museum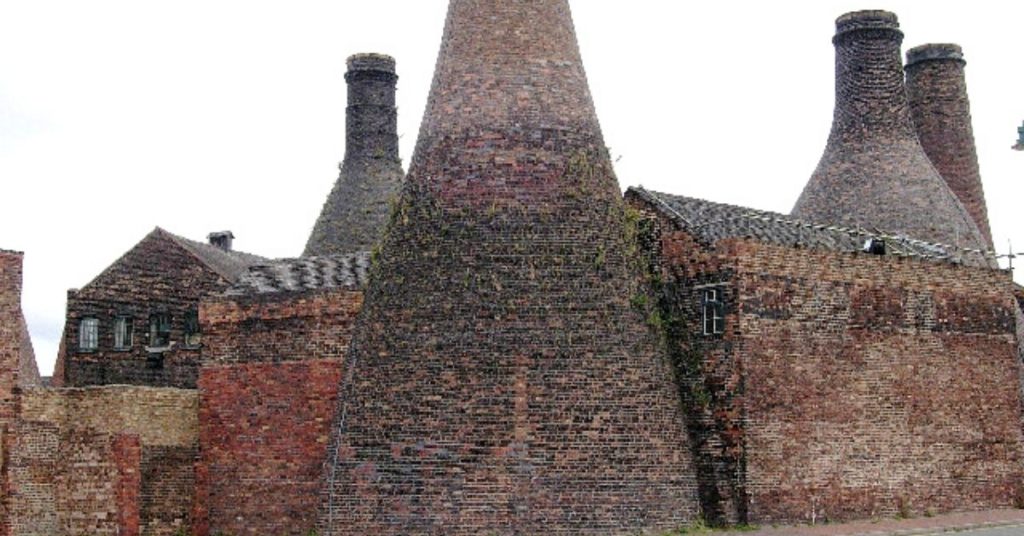 stokemuseums.org.uk – Stoke-on-Trent, United Kingdom
Why should potters visit?
It's featured in the incredible TV show, The Great Pottery Throw Down. What more reason do you need?!
It's also in a coal-fired pottery factory which is a pretty cool operation to see. The building is in a style common during the industrial revolution.
What's the main exhibit right now?
The best part of the museum is seeing how an industrial revolution factory-made pottery. You tour the factory floor, the famous cobbled yard, the engine room, and so much more. You'll also see 18th-century tools and a sagger-making shop.
What people are saying
⭐️⭐️⭐️⭐️⭐️ "This is the best museum I have been to for a long time. What really makes the difference is having the skilled pottery workers there to explain and demonstrate their craft. The lady painting flowers and the lady making flowers were amazing. – Mike, Trip Advisor
4. Keramiek Museum Princessehof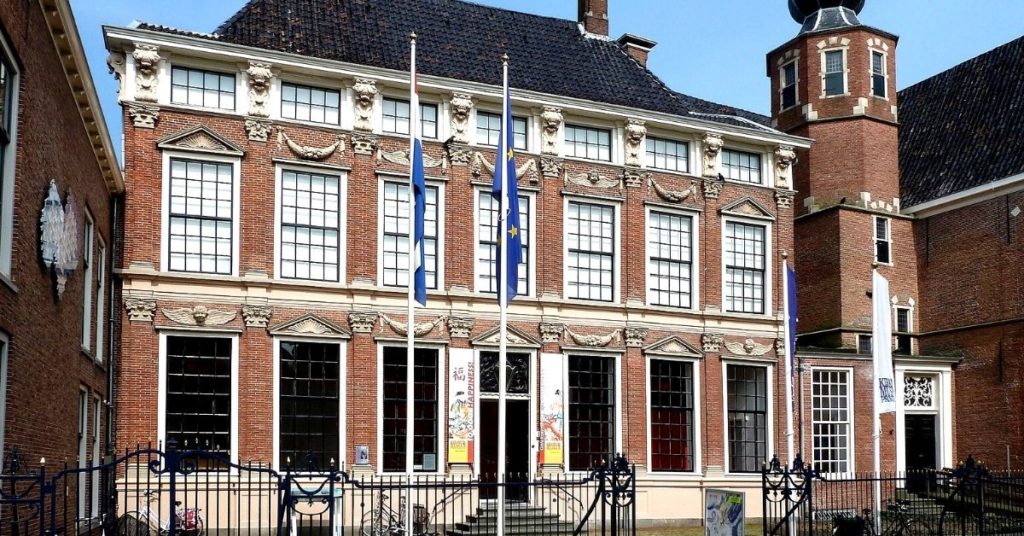 princessehof.nl – Leeuwarden, Netherlands
Why should potters visit?
The Princessehof National Museum of Ceramics is in a former palace built in the 18th-century. It houses ceramics from a wide variety of cultures including Dutch, Ming, Kraak, Zhangzhou, and Chinese cultures.
I could write more. Or you can see it for yourself! 👇
What's the main exhibit right now?
KOREA. Gateway to a rich past
The exhibit highlights the 60th anniversary of the Netherlands and South Korea opening up. Here's what the museum says about the exhibit:
The exhibition unravels the country's rich past and ancient culture on the basis of themes such as food culture, beauty ideals and rituals. Top pieces from the National Museum of Korea in Seoul will be brought to Leeuwarden especially for the exhibition. This is the first time they will be exhibited in the Netherlands.

https://princessehof.nl/en/see-and-do/exhibitions/korea
As part of the exhibit, artist Juree Kim has some really cool pieces. Check out this project by watching this YouTube video:
What people are saying
⭐️⭐️⭐️⭐️⭐️ "This museum is a MUST. The size is perfect for one or two hours and is filled with treasures. One will learn about the ceramic arts and be tempted to bring home ceramics from the gift shop." – Charles, Trip Advisor
5. National Archaeological Museum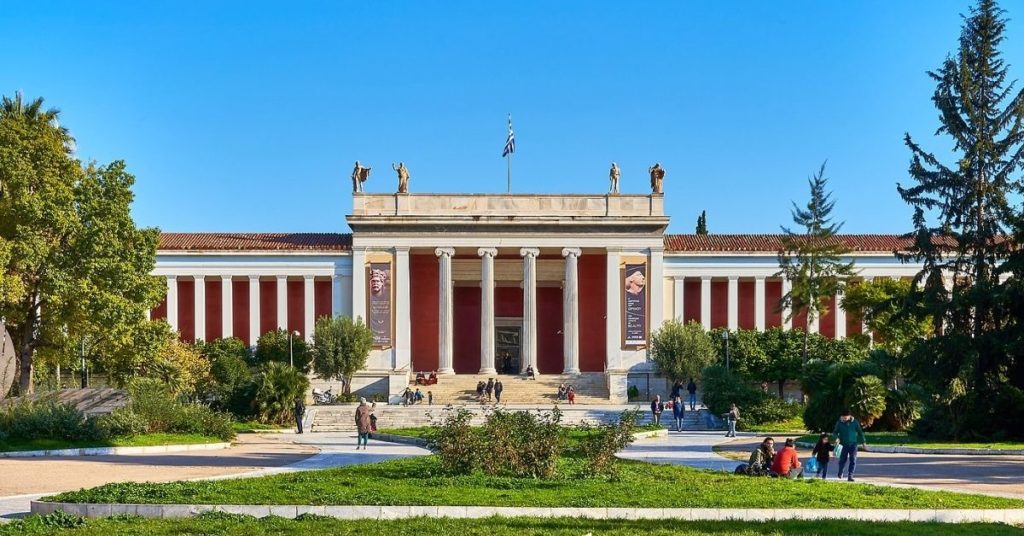 namuseum.gr – Athens, Greece
Why should potters visit?
The National Archeological Museum in Athens is packed full of ancient relics that are sure to excite. Greece has a storied history with ceramics from celebrated geometric decorations to famed black-figure pottery.
This ceramic museum would be a great stop if you're traveling with folks who aren't "pot heads" (ha!). There is sculpture, metalwork, and pieces from across the Mediterranean in addition to the ceramics showcases.
What's the main exhibit right now?
Currently, there isn't a unique exhibit on display as you can see from their blank "exhibits of the month" page. But some of their most popular exhibits include:
What people are saying
⭐️⭐️⭐️⭐️⭐️ "One of the most beautiful museums in the country. The exhibits are impressive with some of them being unique, such as the Antikythera mechanism, the statue of Zeus… There is also one of the largest collections of Egyptian antiquities." – Edmond, Trip Advisor
Conclusion
There are thousands of museums in the world and hundreds with ceramic works to showcase. These are a few notable ones we thought worthy of your attention. If you have any thoughts or questions please leave a question or contact us directly at hello@wheelandclay.com.