In this article, we're showcasing 5 incredible Greek pottery pieces with geometric decorations that we think you need to see.
The geometric style is a painted style popularized by the Greeks back in ancient times. Horizontal lines would be painted around the circumference of the vessel. Then patterns would be interwoven between and through the horizontal lines.
Let's get to it 👇
1. Terracotta oinochoe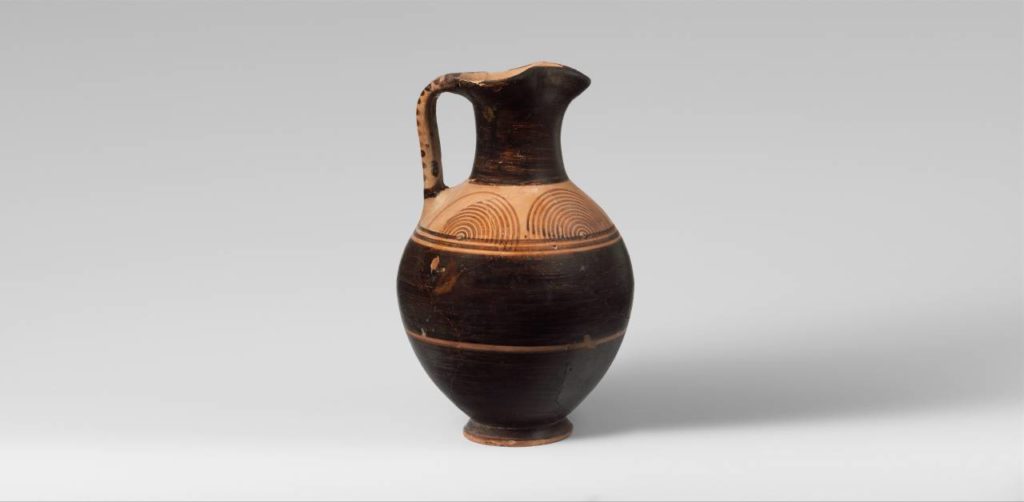 Source: metmuseum.org
Time Period: 1000 – 800 B.C.
Geography: Attic Greek
Vessel Type: Oinochoe
The clay used for this work is Terracotta which is a type of earthenware. Terracotta is defined by its reddish hue. It's an excellent example of early geometric Greek pottery. It shows the mastery and care early Greek potters took in making geometric decorations.
This piece was uncovered in 1959 in a larger archeological dig of the Sanctuary of Zeus on Mount Hymettos. Along with the Terracotta oinochoe, the archeologists found votives (prayer candles), and animal bones. The peak of Mount Hymettos is a 45-minute drive outside of Athens.
2. Dipylon Amphora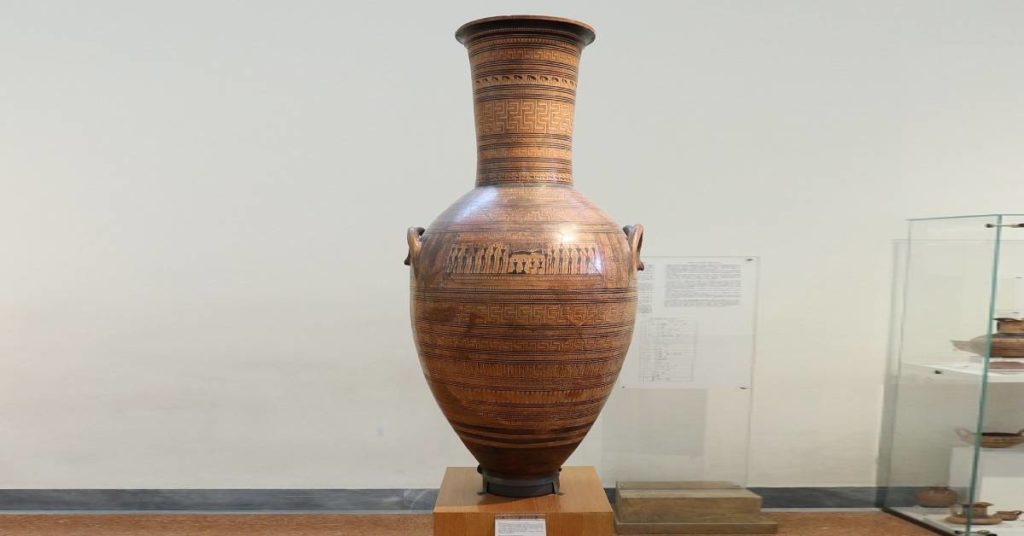 Source: wikipedia.org
Time Period: Around 750 B.C.
Geography: Athens
Vessel Type: Amphora
This piece was discovered in Athens in a cemetery. It's covered in meticulous figures including animals, humans, and other motifs. The artist(s) employed the black-figure technique to display a funeral procession. The animals and other geometric shapes indicate the funeral was for an upper-class citizen.
If you want to see this piece, you'll have to travel to Athens (a dream of ours!). It's on display at the National Archaeological Museum.
3. Terracotta footed bowl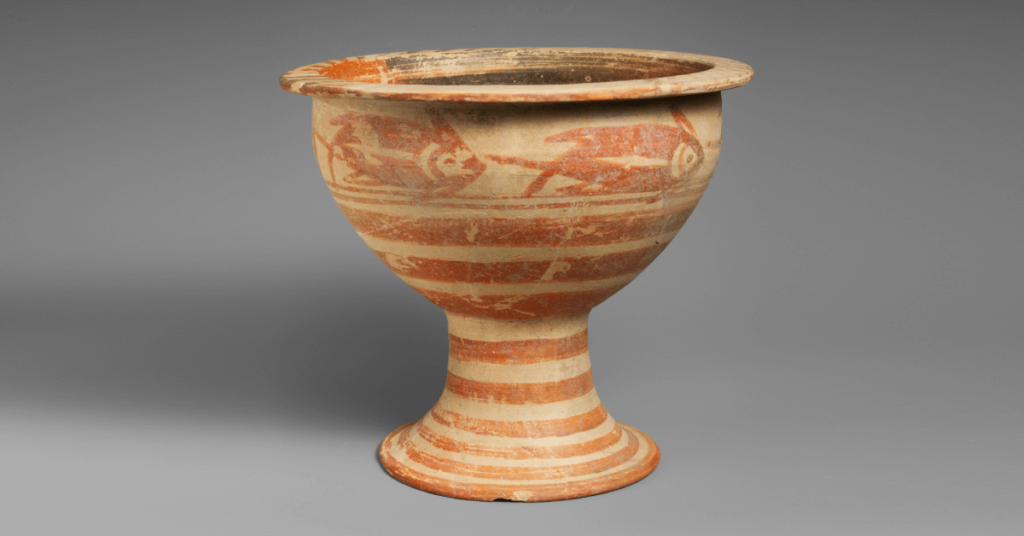 Source: metmuseum.org
Time Period: Around 625 – 600 B.C.
Geography: Etruscan (modern-day Italy)
Vessel Type: Cup
The clay used for this work is also Terracotta. Though the piece utilizes Greek geometric pottery, it was discovered in Etruscan. Etruscan civilization was located in what we now know as northwest Italy.
The Greeks settled many colonies in the southern portion of modern-day Italy. The proximity led to the Etruscan culture being heavily influenced by Greek culture. It is believed the pictured piece was locally made in imitation of Etruscan's Greek neighbors.
4. Boeotian Pedestalled Skyphos with Lid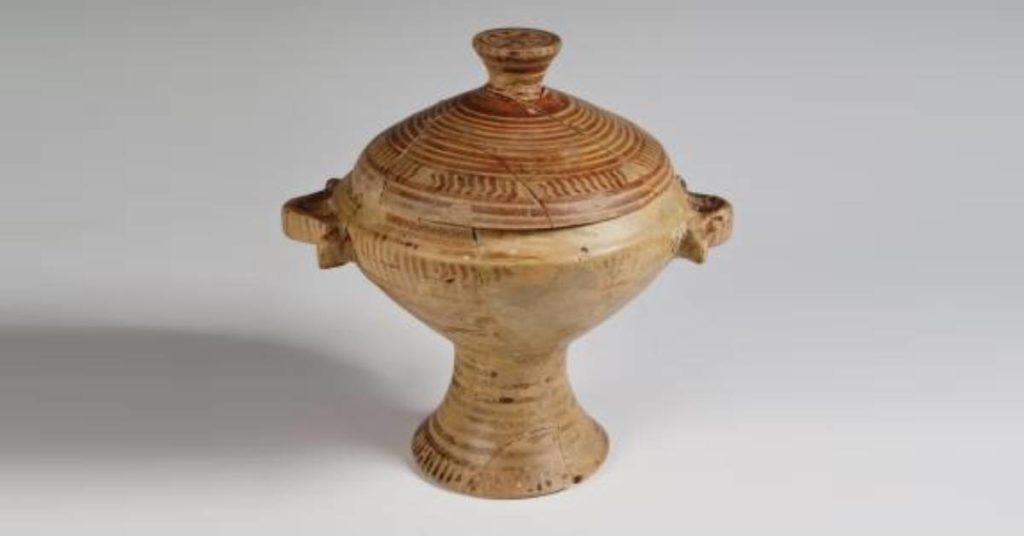 Source: colorado.edu
Time Period: Around 750 – 700 B.C.
Geography: Boeotian (central Greece)
Vessel Type: Skyphos
A skyphos is a two-handled cup typically used for drinking wine. It also has a top with a knob handle. The pattern on the top and sides is called "horizontal banding" and was made with a red-brown slip.
I think it's beautiful in its wear and tear. And to think it's been around for centuries!
5. Krater With Lid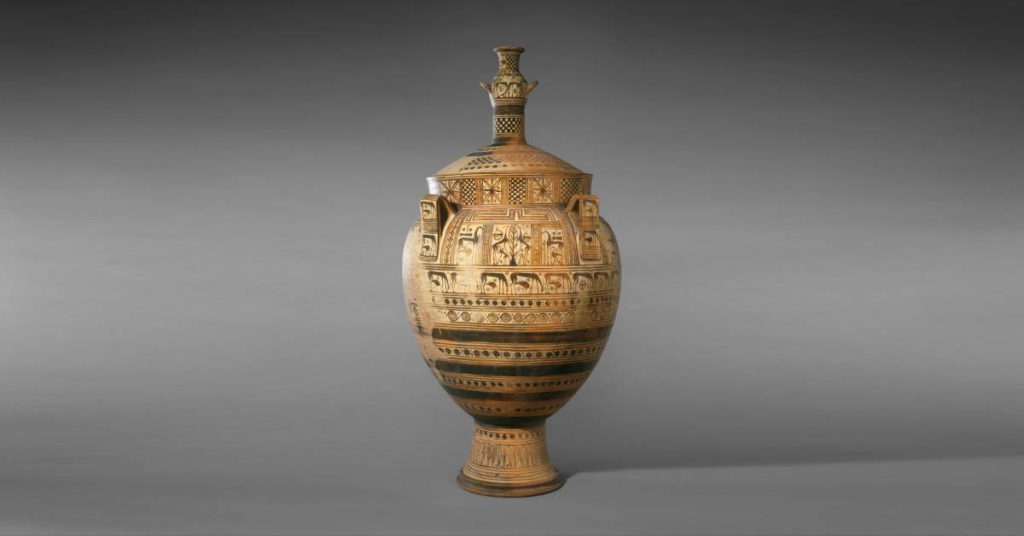 Source: metmuseum.org
Time Period: Around 750 – 740 B.C.
Geography: Cyprus
Vessel Type: Krater
The piece was discovered in the ancient town of Kourion on the southern part of the island of Cyprus. Krater's have a wide mouth and round body. Hydria's have round bodies and narrow necks to make pouring easier. This vessel is a unique mixture of the two styles.
The style is the work of a master. The vessel is exceptionally made from the handles to the body. And if you look closely, you'll see animal forms interwoven through the geometric patterns.
Conclusion
The Greeks really had a knack for culture and arts. The amazing geometric style is a delight to study and look at. Be sure to check out our article on Greek pottery if you'd like to learn more.
Which of the 5 is your favorite? We'd love to know! Comment down below or email hello@wheelandclay.com.
Visit the following link if you want to read more about ancient pottery cultures.
Related Articles
A guide to ancient Greek pottery