We've compiled 21 pottery ideas for beginners. You may be here because ceramics can feel complex and difficult.
But every potter started somewhere. We've tried our hand at many pottery projects and think we've come up with a great list for beginners to learn new skills and make things that can be proud of.
We've done our best to order these projects from the easiest to the hardest. Pick one of these 21 pottery ideas for beginners and get started today!
1. Jewelry Tray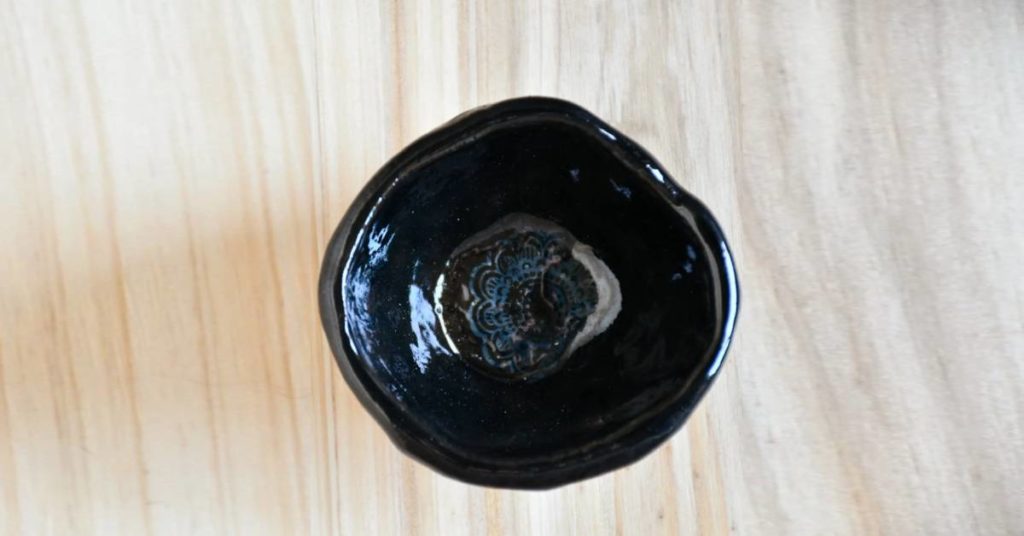 Let's start with the easiest project on the list…
A jewelry tray is one of the easiest options on this list. Why? Because you can royally mess it up and still use it as a jewelry tray! Plus, it doesn't need to be food-safe. That eliminates a lot of research into your clay and glazing.
Here's a fun example from an artist on Etsy called Brae Coulior Pottery.
2. Succulent planters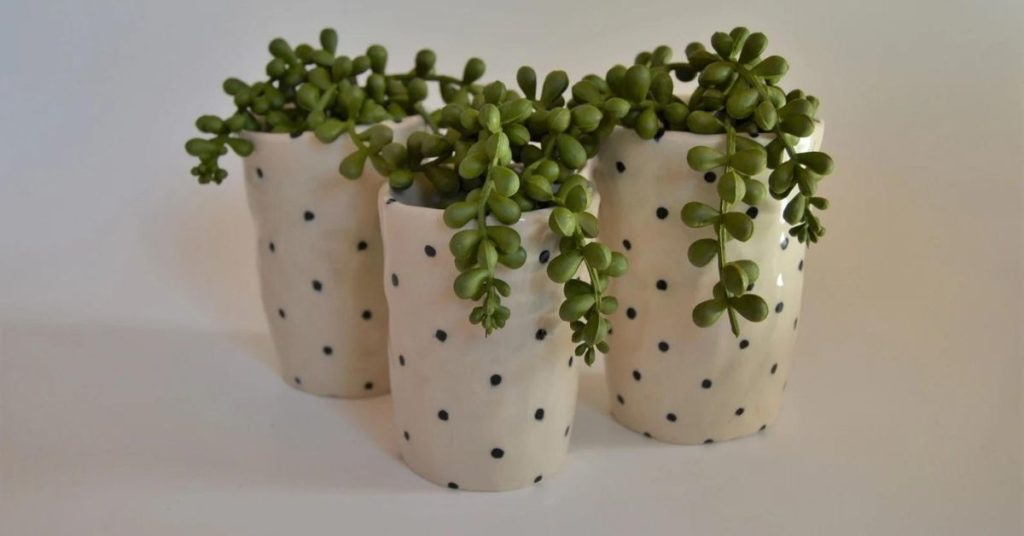 A succulent planter can be a great accent in your house and a great project for a beginner potter to try their hand at pinch pots. Plus, you can vary in difficulty if you'd like a challenge. The deeper vessel the higher the difficulty (Just so you know, succulents don't need deep pots for roots to grow and soil to cultivate).
One Of Our Favorite Beginner Kits
3. Beads
Now beads are a true beginner project. As an art teacher, I could see this being a great way for kids to get accustomed to forming pottery clay by pressing and pulling on it.
Clay beads can be a fun way at-home project to do when you're homeschooling or looking for something to do with the kids on a rainy Saturday. Use air dry clay and you can do everything at home! And add some color and fun by painting the piece with acrylic paint.
This video from Monte Mart Art channel shows you how to make beads out of polymer clay.
4. Pinch pot mugs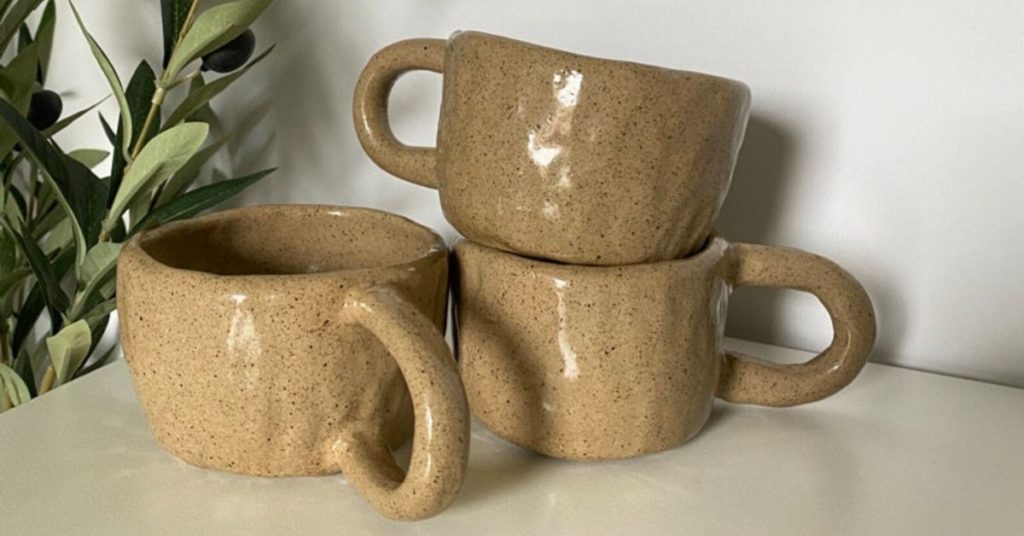 Think ya gotta go to the pottery studio to make a mug? Think again!
A pinch pot requires nothing but your hands and clay. It's a good idea for a beginner or young children. You can test out pinch pottery. Why? Well, you can use a mug every day it is rewarding to see one of your works in action. Plus, you can make a simple pinch pot and still call it a mug.
Click here to read our article "How to make a pinch pot".
5. Egg cups
Egg cups are essentially shallow bowls that hold (you guessed it) eggs. I can see this being a fun addition to the holiday season. Boil your eggs, decorate and paint them, then display them in your handmade egg cups.
Because these are shallow bowls, I would recommend taking a piece of clay and forming the egg cups through the pinching method.
6. Slab built planter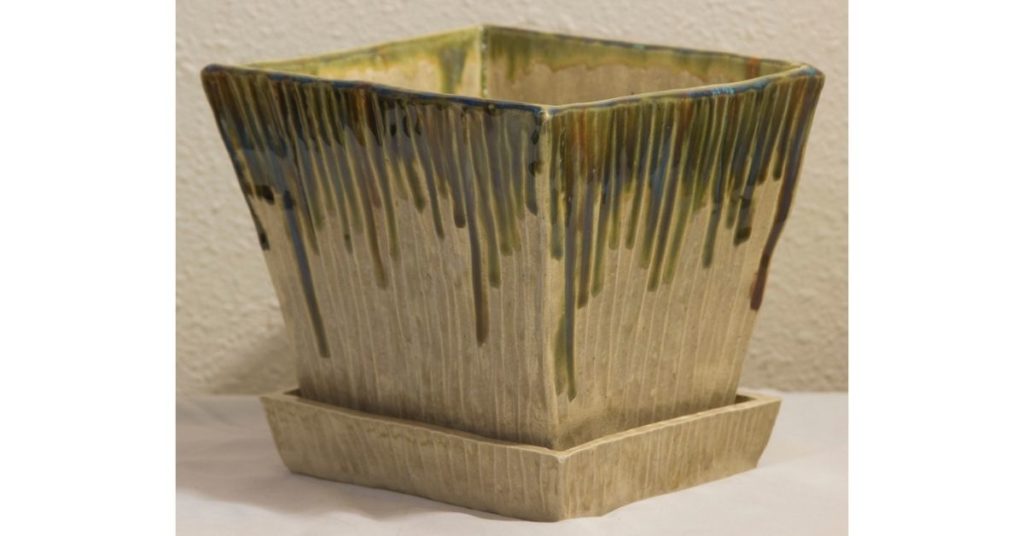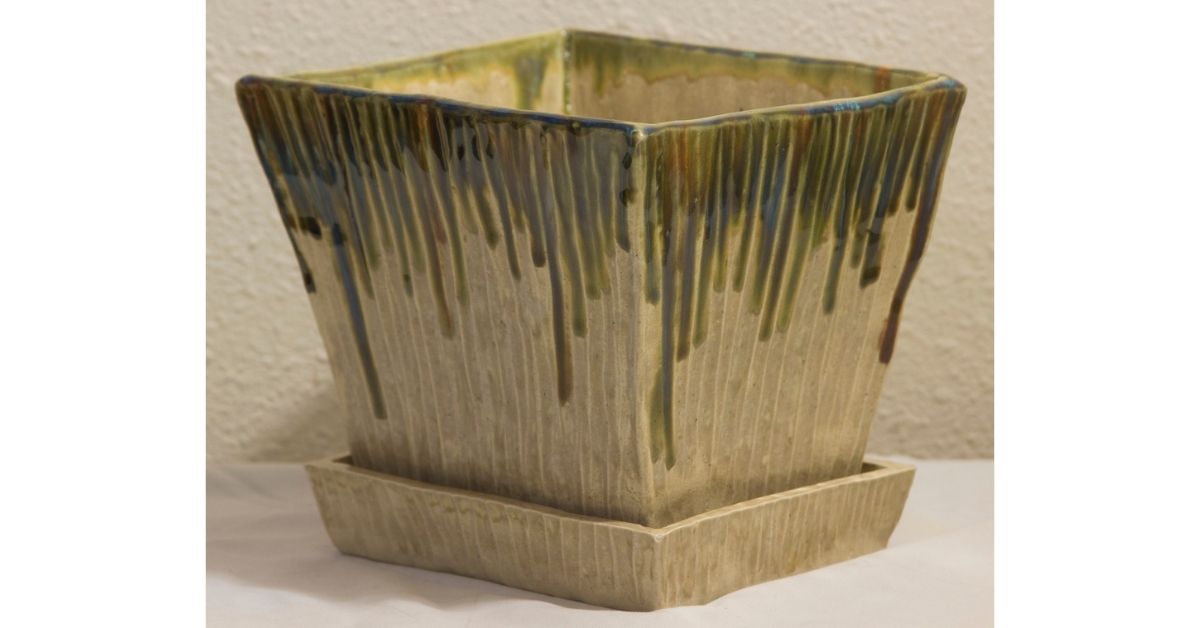 Ceramics is a great way to spruce up your garden. And made from the slab building technique (slabs of clay or clay walls scored together) pair well with planters. It's a great idea for a beginner to test their new hand building pottery skills. A beginner can stress less about the details since the piece of pottery will live outside in a natural setting.
Click here to read our article "Slab Pottery 101: A Handbuilding technique".
7. Spoon rest
Keep your counters clean when cooking with a spoon rest YOU make. Plus, a spoon rest is hard to mess up. So it's a great starter project!
Here's a wonderful example of Andrea Akerib Pottery making a hand-built spoon rest on YouTube.
8. Rings
Show off your work by wearing it everyday as jewelry! There are some pretty cool (and difficult ways of making rings). But the method I'm referring to requires a clay piece and a few simple tools. Plus, you can make this with air dry clay saving you the trouble of finding a kiln.
Here's a great example from Luisé Cisneros Art on YouTube.
9. Slab built butter dish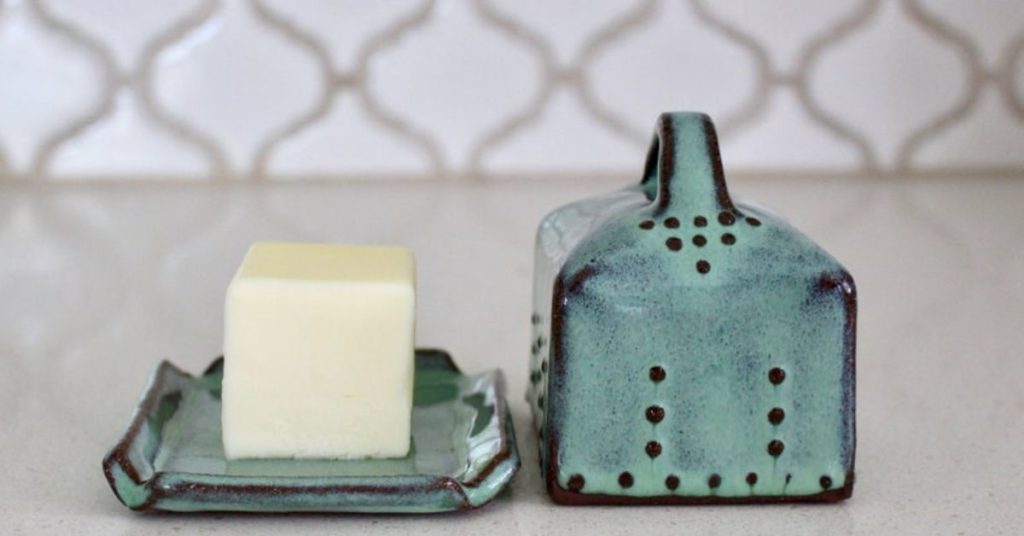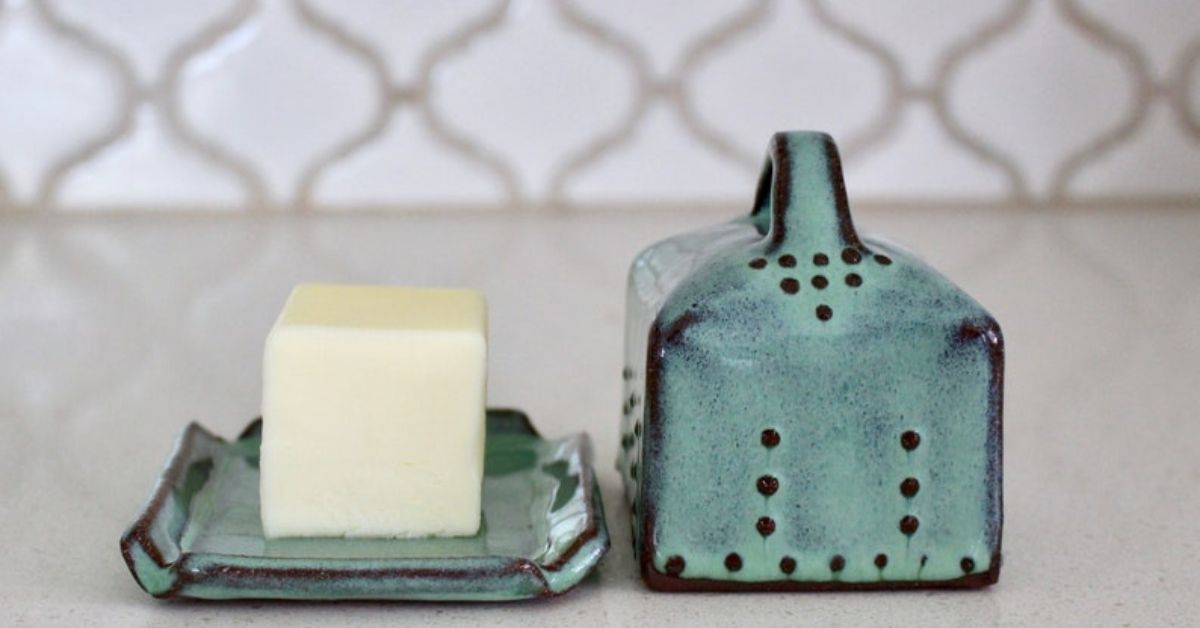 A butter dish can play an aesthetic role and act as a utility in your kitchen. The size of a butter dish makes the project accessible to beginner skill sets.
Here's a good example of a more detailed slab construction butter dish from Back Bay Pottery on Esty I love the glaze they chose for this piece. You don't have to do the texture work they did on the outside and still be proud of your finished product.
10. Candleholders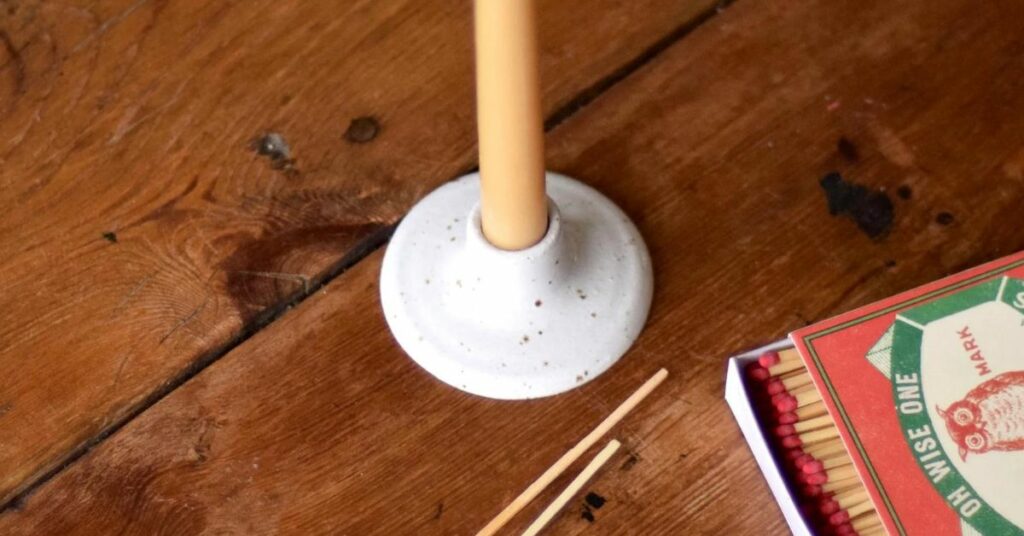 You may be picturing your grandma's dining room table right now thinking "candleholders aren't easy". But like any ceramic work, you can make it a hard or easy project. Candleholders can be a great beginner piece because the foundation doesn't need to be perfect (it's ok it doesn't lie perfect on a table 🙂 ) and you don't need to make the piece food safe.
Here's an example from Etsy of a candleholder you'd be proud to have in your house.
11. Sponge holders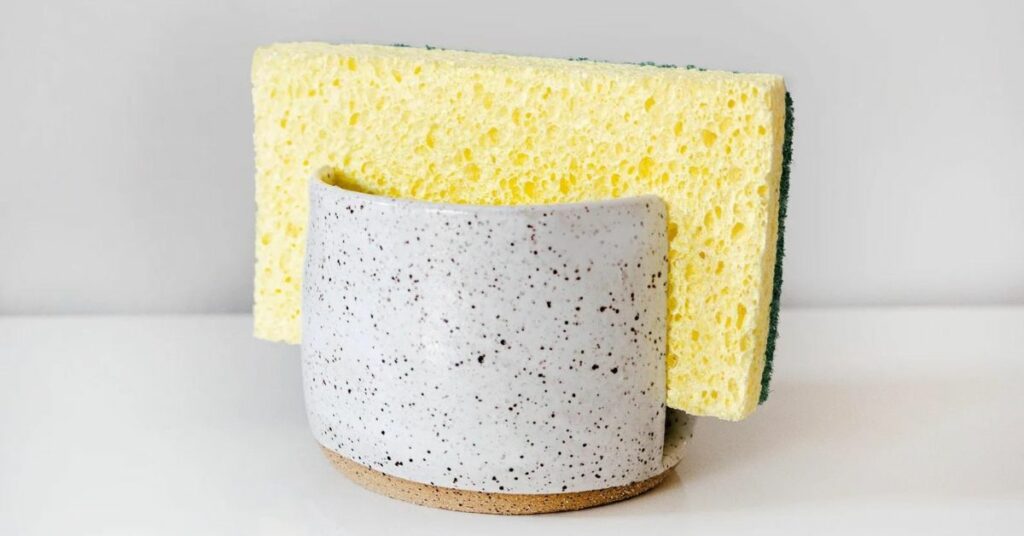 A handmade sponge holder can take a rather ugly or gross part of your house (that place where you store all the cleaning supplies) and make a tasteful art piece.
Sponge holders are near the top of our list for beginners to try because they are pretty straightforward forms AND they don't need to be perfect (they are after all meant to hold sponges).
Here's a lovely example from Moonshine Design on Etsy.
12. Coiled pottery vase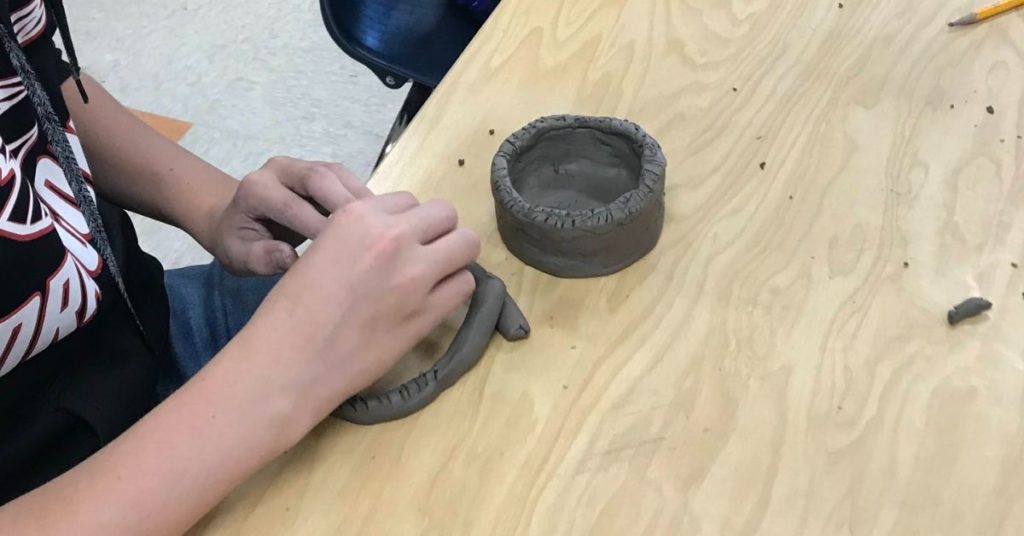 A vase is a pretty straightforward project for the coil method. 
Click here to read our article "Handbuilding technique: Coiling pottery".
13. Ceramic bowls on the wheel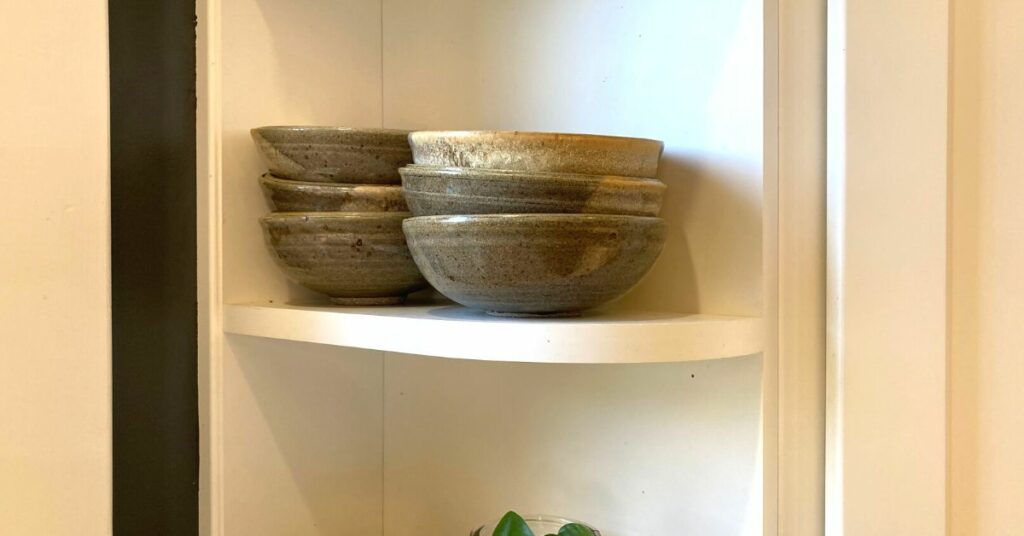 Bowls are often one of the ceramic pieces a new potter will throw on the wheel. Standard throwing technique is natural to creating a bowled-out shape, so beginners might have a better time getting it right.
The image above is actually a set of bowls I threw many years ago and we use them almost every day! It's always fun getting asked questions about them and sharing how I went about making the bowls.
14. Mugs on the wheel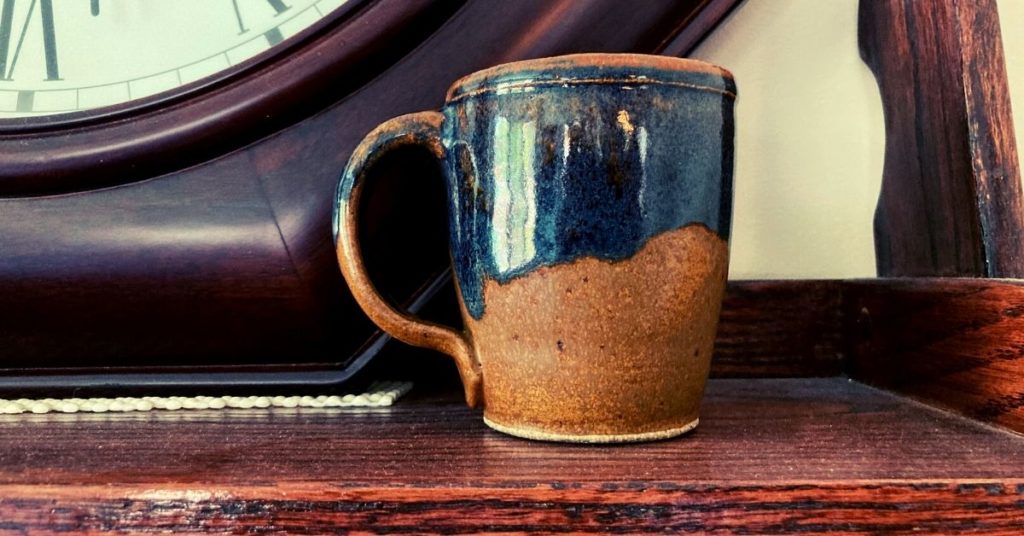 You can never have too many mugs 🙂 And a mug made by you?! That's a treat.
So we covered earlier a pinch pot mug. And a pinch pot mug is an easier piece to make when compared to throwing it on the wheel. But if you want to hone your wheel-throwing skills and get a bigger mug out of the deal, you'll want to give this a go.
One of my favorite videos on YouTube right now is by a studio potter named Florian Gadsby. Check out his video on how he makes mugs in mass – all by hand.
15. A flower pot on the wheel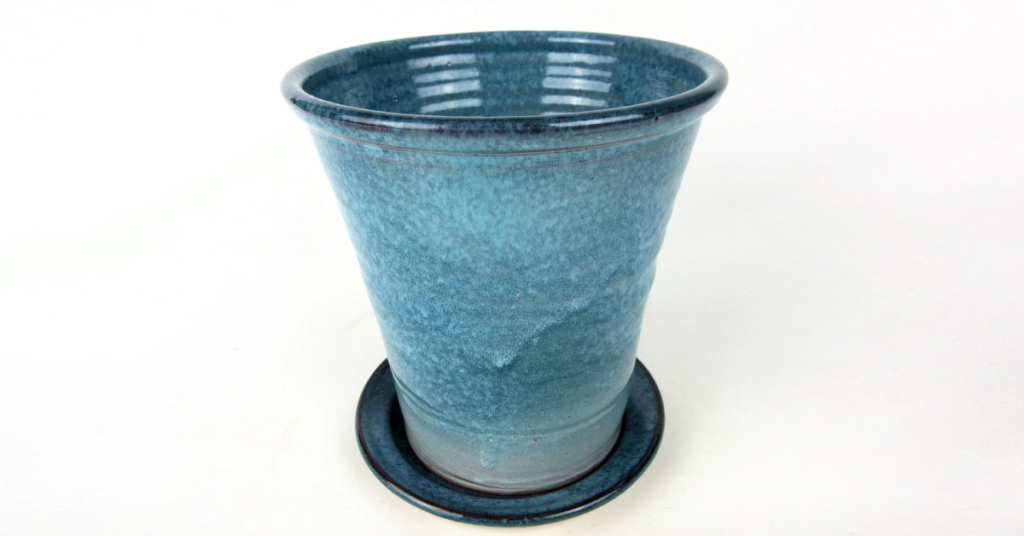 Once you nail a ceramic bowl and a mug, you're off to the races with throwing on the wheel. We talked about making a pinch pot planter for succulents. But to fit a plant any larger than a succulent, you'll need to throw it on a potter's wheel.
Here's a wonderful example to get the creative juices flowing from Summer Hollow Pottery on Etsy.
16. Juicers
A juicer is another functional piece that can be a staple to your everyday life (if you're a juice drinker, that is 😉 ). Though the forms aren't too terribly challenging, the end product does need to be food safe. That's why you'll find this item further down the list.
The folks over at Pottery Crafters have put together a helpful resource on how to make one for yourself. Check it out at this link.
17. Plates on the wheel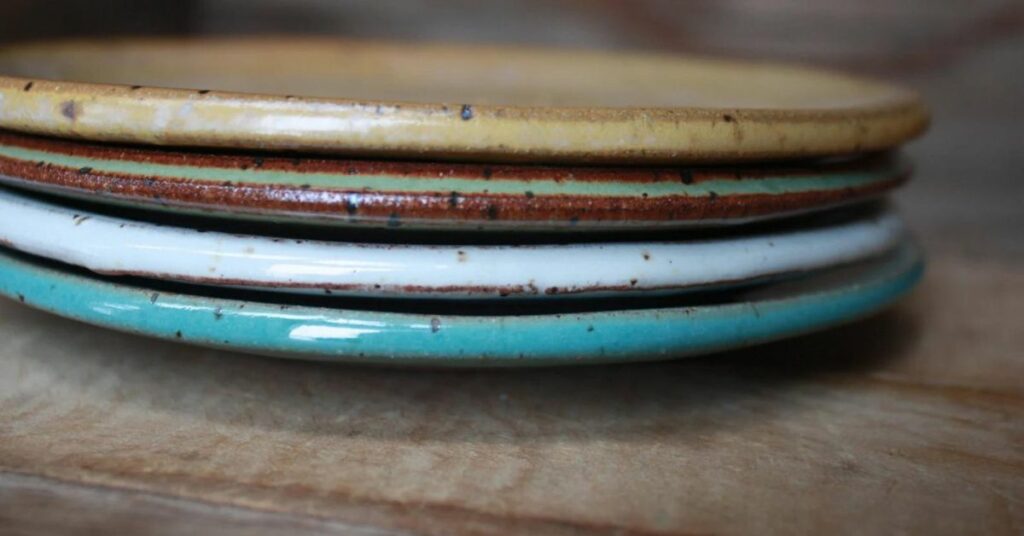 Can you imagine serving dinner to your friends and family on plates YOU made? That's got to be a good feeling.
Learn new skills when throwing a plate on the wheel. The techniques that made your bowl, flower pot, or other rounded-out objects won't get you to the same place as here. The first time working on a plate can be frustrating, but it's one of the main ways to level up your skills.
I love these examples from KJ Pottery on Etsy.
There are different ways of making plates too. A more challenging process called slip casting could be worth a go if you're up for a challenge.
18. Cake stand on the wheel
I've seen a lot of cake stands made on The Great Pottery Throw Down. And though those contestants are quite good at their craft, you can make one too!
I like a cake stand for a beginner because you can practice throwing two different pieces on the wheel and then attaching them at the end with the slip and score method.
Here's an exciting example from Alyssa Wagner on YouTube.
19. Figurines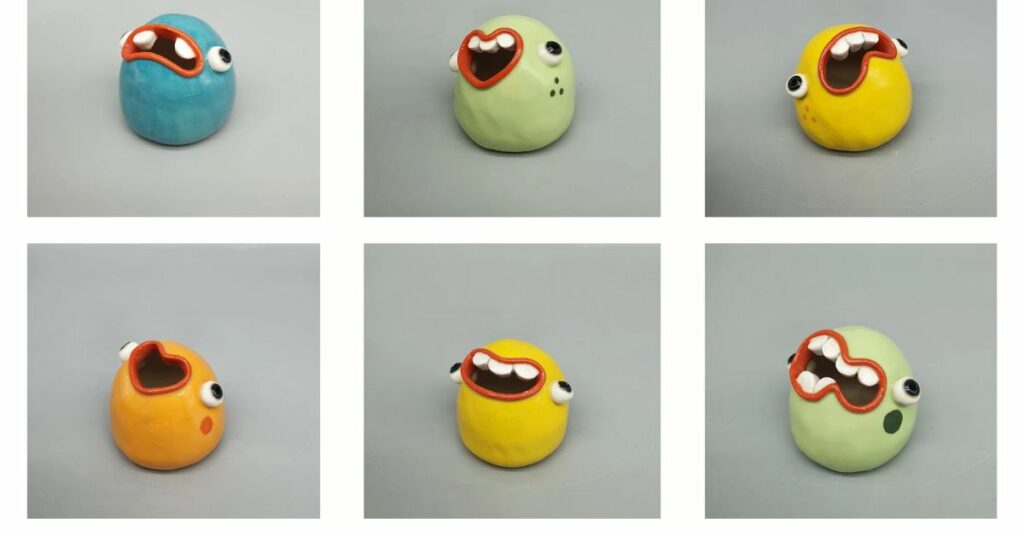 Figurines can be quite difficult to form if your aim is to make a complex piece. But it doesn't need to be! A simple animal or human form can be a fun project that requires little know-how and just a few simple tools.
For inspiration, check out AJ Simpson's Instagram at this link (winner of season 5 of The Great Pottery Throw Down). They do some fun and exciting pot/figurine pieces!
20. Bust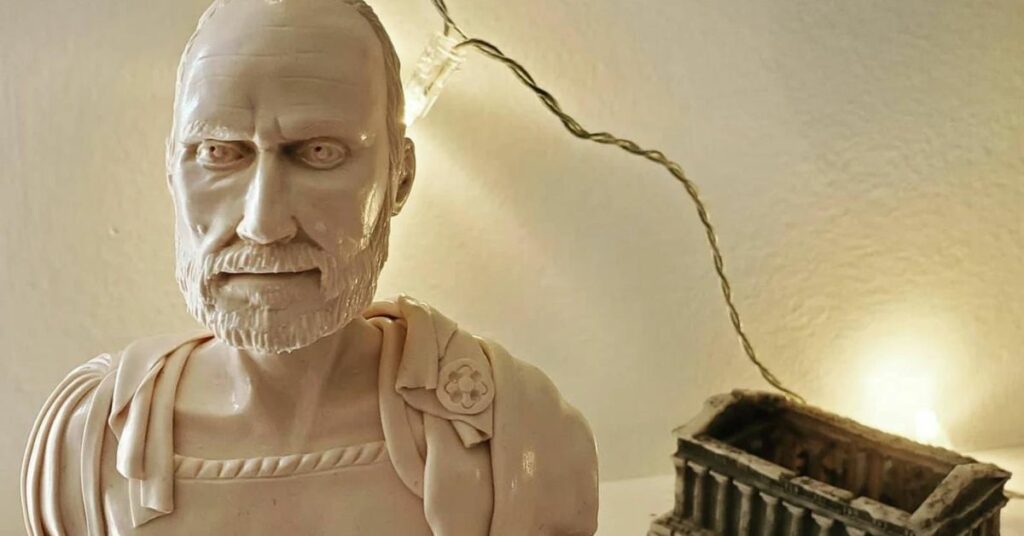 Busts BARELY made the list. Human faces are hard to draw and they are hard to form in clay. But a bust can be a fun project for a beginner to try their hand at forming more complex forms.
I love this Etsy shop that creates custom clay busts for you. Check them out!
21. A teapot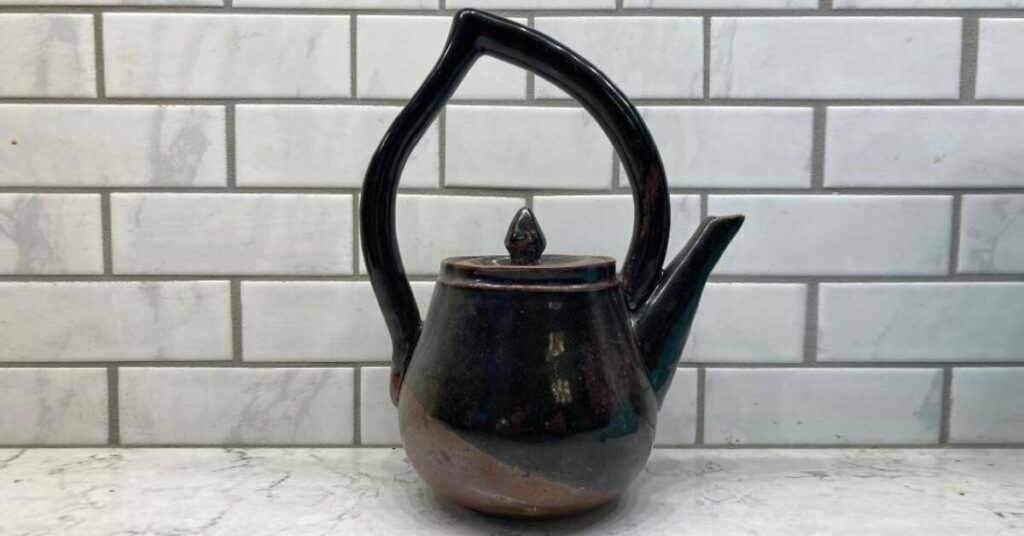 The next project idea requires a pottery wheel. The wheel allows a potter to get more depth and size with a piece. But, for a beginner, it can be hard to get the right equipment. Or maybe you're nervous to try your hand at ceramics in front of others at a studio. That's normal. And I've found all fellow potters to be helpful and encouraging. Like anything, you just need to take the leap!
A teapot is a great pottery idea for anyone who loves the form and function of ceramics. It's a functional pottery piece, but you can also keep it on your stove and show it off to guests.
Now, I can hear you on the other side of the screen… And I agree. This might be pushing the beginner level. There is certainly a learning curve when working on components of a teapot. But take this project on if you're up for a challenge! That's how you level up in your skills.
The one above was thrown by yours truly! It was thrown in three parts: body, lid, and spout. The handle was hand built and all pieces were connected while leather hard. Dipped in multilayered tenmoku glaze.
Check out this YouTube video from Ingleton Pottery on how to throw a teapot on the wheel.
Conclusion
And that's our list of 21 pottery ideas for beginners! The techniques covered range from needing lots of equipment like a wheel and kiln to needing just your hands.
If you're interested in learning more about the ancient craft of pottery making, check out our blog page at this link.
And if you try out any of these projects, we'd love to see your projects. Take a picture and email it to hello@wheelandclay.com. We'll hang it on our virtual fridge 🙂
Web Story
Last update on 2023-09-22 / Affiliate links / Images from Amazon Product Advertising API